Think like an Administrator Every police supervisor can tell a sto..
Think like an Administrator Every police supervisor can tell a sto..
Question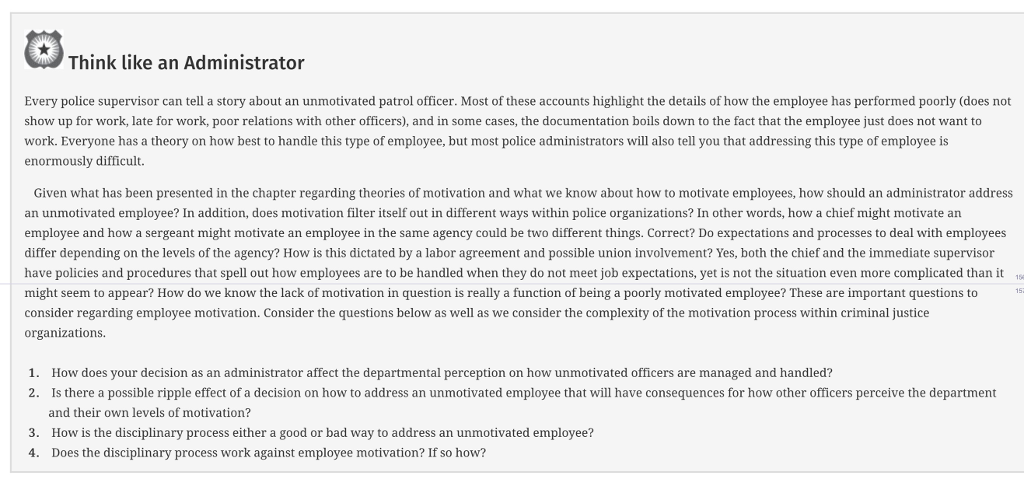 1: Colloborative effort is the success factor for an administrator. It requires everybody's co -operation in executing certain things and unmotivated officers can be handled through involving them in decision making support and take their input inorder to incorporate everyone's view in to the case.
2:There are slight chances as certain moves on motivating the unomotivated employees will have consequences for other officers perception. Some will take that in positive aspects and they also will involve in the task of motivating the others and some will take it in negative way as they feel like giving priority to someone else.
3: Disciplinary action will give only forceful attitude to follow certain things. Inorder to create a sustainable platform for development management should consider the effort genuineley and make them to co operate through detailed evaluation and addressing their concern. Thus forceful kind of discplinary steps will not give motivation.
4:Yes. it will work against empoloyee motivation. Disciplinary action can give a feel that employees are not valued based on their effort and management is taking rude action against them which results in forceful implementation of something against their wish. Thus it will work against their motivation and employees will lost the feel of taking ownership and pride of doing the work.